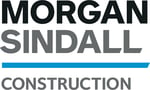 Key Person: Adrian Golby
MSite Solutions: Supervisor App and Access & Attendence
Duration: 12 months
Value: £10.2 million
The MSite Supervisor App is being used during the enabling works phase of a new supported living development scheme in Seacroft, Leeds. The £10.2 million project opted for an MSite Access & Attendance POD and the new MSite Supervisor App to manage site access and log operative time & attendance.
"It's a really good and easy system to use. It gives me all the digital reports I need and the ability to easily check worker competencies as I move around site."
Adrian Golby
Senior Site Manager, Morgan Sindall
Whilst Morgan Sindall Construction opted for an MSite POD to securely manage site access and record time & attendance, they required a solution to accurately report on operative time & attendance before their access control turnstile arrived on-site. The MSite Supervisor App's 'Kiosk Mode' acted as an alternative to biometric hardware during this initial phase, allowing workers with the MSite Workforce App to contactlessly clock in and out of site.
By using the MSite Supervisor App, site teams have a digital tool they can use to capture and report on key productivity and safety metrics straight from their mobile phone. We caught up with Adrian Golby, Senior Site Manager on the site to share his experience of the solution, he said; "The Supervisor App is ideal for clocking people in and out of site in this initial period until the MSite POD arrives. It means I can view T&A reports, total hours worked, trades on site, trades by contractor and more workforce insights straight from my phone. Previously, we would be using a manual handwritten register, which would give me none of the reporting capability the Supervisor App provides."
Acting as an 'on the go' solution, site teams and supervisors can easily access workforce insights and a range of MSite software tools straight from their phone. It's this portability that makes the Supervisor App so well suited for this initial period whilst everything is getting setup and running. Captured T&A data lends itself the MSite Roll Call solution, which allows safety personnel to log people 'off site' in the case of a site evacuation or emergency.
Adrian proceeded to say; "I like how you can use the App to perform on the spot checks, which is something we'll begin do more of as the on-site workforce increases." The Supervisor App's new 'Mobile ID' feature allows users to instantly check operative training and accreditations when they present their MSite Workforce App. He continued; "I also like how you can setup an automatic recurring email notification at 6pm every day to ensure everyone is off site."
"All in all, it's a really good and easy system to use. It gives me all the digital reports I need and the ability to easily check worker competencies as I move around site."