Contactless site access - the 'new normal'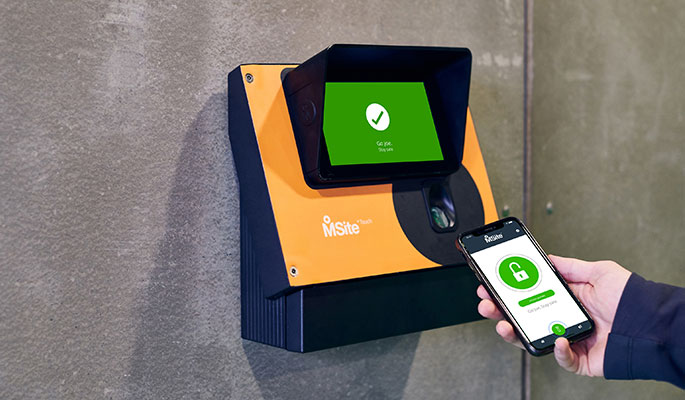 Contactless site access.
Even before the pandemic hit, it was becoming an increasingly popular option in the construction industry. But COVID-19 has certainly been a catalyst for change. Over the last 12 months, the demand for a touch-free access system has – understandably – skyrocketed among contractors.
The question is, will that demand fade after lockdown?
We may be biassed, but we don't think so. Here we take a look at some of the main benefits of contactless biometric technology and explore why, post-pandemic, it's likely to become the norm.
3 advantages of contactless site access
1. Improved hygiene
Touchscreen and fingerprint recognition devices are a secure way to control site access. But with people coming and going all day, they fast become a high-touch surface and can harbour bacteria. And as we've seen over the last year, such surfaces can be instrumental in the spread of illness.
By contrast, contactless access control systems are much more hygienic. They offer accurate identification, with zero physical contact. The user doesn't have to touch the system at any point. Their access is simply authorised using innovative contact-free technology. And the spread of infection, whether that be of COVID-19, the common cold or something else, is significantly reduced.
Of course, this is particularly beneficial at the moment – as we're still in the midst of the pandemic. But it's also useful long-term. Reducing infection is not only good for public health, it will protect the safety of your staff and workers and ultimately limit the number of absences due to illness.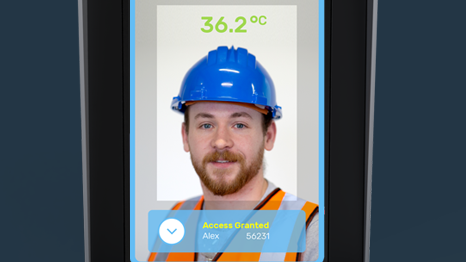 2. Additional checks
A Contactless door entry system can be used to screen people – for various additional parameters – before allowing them access. For example, some biometric technology (such as facial recognition devices) can be used to check the user's skin temperature. If their reading is abnormally high (i.e. they have a fever), their access can then be denied and the spread of illness will be reduced.
Again, this can help to reduce staff absence and minimise disruptions to your site operations.
Contact-free devices can also be integrated with site access software, verifying each worker's biometric profile to grant or block their access and logging their attendance – which can be very useful for contact tracing. It's possible to see exactly when that worker was on site, and who with.
3. Convenience
Another huge benefit of contactless access control is convenience. For a start, there's no need to carry key fobs or access cards and you'll never have to remember an access code. To gain entry, you just need to look at a device – whether that be a face reader or your own smartphone.
Contactless technology is incredibly quick and easy to use. Therefore, it can help to avoid queues – particularly at busy times – and will help workers to maintain social distancing rules. What's more, as no physical contact is required, you won't need to clean the device between every single use.
It may not sound like much. But, on a day-to-day basis, these small things can make a huge difference to your site's productivity levels and the overall progress of your project.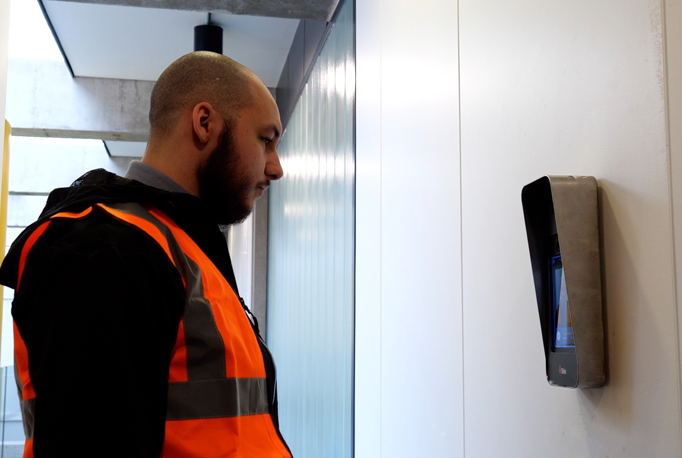 Innovative contactless solutions engineered by MSite
All businesses have had to adapt to survive the pandemic. And here at MSite, we're no different.
To make our products viable during the COVID-19 era, our team of experts has worked hard to engineer two contactless solutions. Essentially, these solutions have been designed to minimise disruption to site operations and ensure the safety of construction workers throughout the pandemic. But due to the benefits above, we predict they will become the 'new normal'.
The first is the MSite Face Reader. Just as the name suggests, this is a contactless entry system that uses facial recognition technology to authenticate site access – and, for an added layer of safety, it has an integrated temperature screening feature. The second is the MSite Workforce App, which allows operatives to gain access using their own smartphone's biometrics (fingerprint or facial recognition).
If you would like to find out more about either of these contactless sign-in solutions – and how they could be of benefit to your construction company – please don't hesitate to get in touch. We're always happy to help and will gladly talk you through each one, including how they work and how they can help to drive productivity on your site (whilst also keeping your staff and visitors safe).
Simply give us a call on 0333 456 2001. Or if you prefer, fill out our online contact form and a member of the team will respond to your enquiry as soon as possible with more information.