MSite – solving the workforce productivity puzzle in construction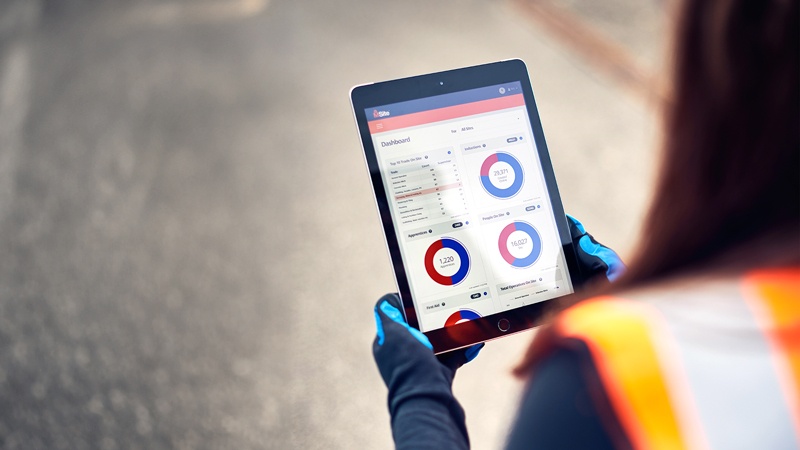 The productivity puzzle.
It's blighted the construction industry for a while now. As other industries (such as manufacturing) have more than doubled their productivity levels in recent decades, construction productivity has seen no such improvement. In fact, on average, major UK contractors only generate a net margin of 1.5%. And this lacklustre statistic certainly doesn't leave much room for error – or pandemics!
So it begs the question, why is construction lagging so far behind?
6 reasons why construction productivity is low
Productivity is the Achilles heel of the industry and there are several reasons why:
1. Labour can be transient and not always organised
Construction projects last for a relatively short amount of time, typically running for about 6-36 months. And during this timeframe, onsite labour is variable. This can make it very difficult for the contractor to align work with the right workers for the job and limits overall productivity.
2. Workers are supplied by multiple companies
In an ideal world, the contractor would supply all of the workers. But in reality, this simply isn't feasible. The main contractor will usually only provide 10% of the labour force, with the rest being drawn from multi-layered supply chains across different companies. These companies often have their own ways of working. And if everyone isn't on the same page, productivity can suffer.
3. Day-to-day performance is often ineffectively managed
Performance management is virtually non-existent in the construction industry. Due to short project timeframes and ever-changing priorities, contractors rarely find the time to monitor the progress of work being completed – both at an individual and site level. What's more, it can be difficult to roll out company standards and protocols across a complex labour supply chain.
4. Excellent labourers are scarce
With tight deadlines to meet, contractors are constantly worried about losing their sub-contractor workers to another project. This can make them reluctant to impose so-called 'onerous' rules and processes on workers. Which in turn, can affect productivity.
5. Training isn't standardised
Certification standards are in place for certain trades. But this doesn't necessarily translate to standardised labour skills. Training isn't industry-standardised. And as such, different sub-contractors may approach work in different ways – with varying levels of productivity.
6. Communication with workers is poor
Contractors very rarely speak directly with their workforce. Nine times out of ten, communication will be paper-based and either third- or fourth-hand. It lacks any kind of direct-to-worker interaction. And there is no way to confirm whether important information has been received and fully understood.
Digitalisation – the key to improving workforce productivity
So, how can things be improved?
In our opinion, the solution to the 'productivity puzzle' is simple.
Project after project, construction companies continue to use the same old-fashioned methods of workforce management – in the hope that it may, this time, generate different results. And by doing so, they are their own worst enemy. Fundamentally, these methods need to change – and to improve workforce productivity once and for all, we believe that digitalisation is the key.
A digital workforce management system – such as MSite – can help to remove (or at the very least, lessen) some of the productivity 'inhibitors' outlined above. By creating a digital eco-system in which the contractor, worker and supply chain can work together in concert, such a system can be used to:
streamline the registration process
match workers with the right skills to the right tasks
induct workers before their arrival on-site
provide standardised training courses
advise workers on company and site rules
communicate directly with workers
generate read receipts, to ensure important information has been received
It can also provide powerful data insights, allowing contractors to identify the successes and challenges of a particular project – and use this information to drive better productivity.
Want to find out more about digitalisation in construction?
For further information on digitalisation, and how it could help in the construction sector, be sure to download our whitepaper 'Construction Workforce Productivity: Digitalise or Die'. This takes a closer look at the issue of workforce productivity and the benefits of a digital management system.
Or if would like to find out more about MSite, be sure to get in touch with our team. We're always happy to assist and can provide many examples of how workforce digitalisation has helped our previous customers to improve their efficiency and productivity levels and boost their net margins.
Either call us on 0333 465 2001, fill out our online form or send an email to sales@msite.com.