In the hands of every worker
Workers can use the Workforce App on their own smartphone, making it a great solution for direct-to-worker notifications and location based check-in.
Download the MSite Workforce App Overview
Fill in the form to download the MSite Workforce App overview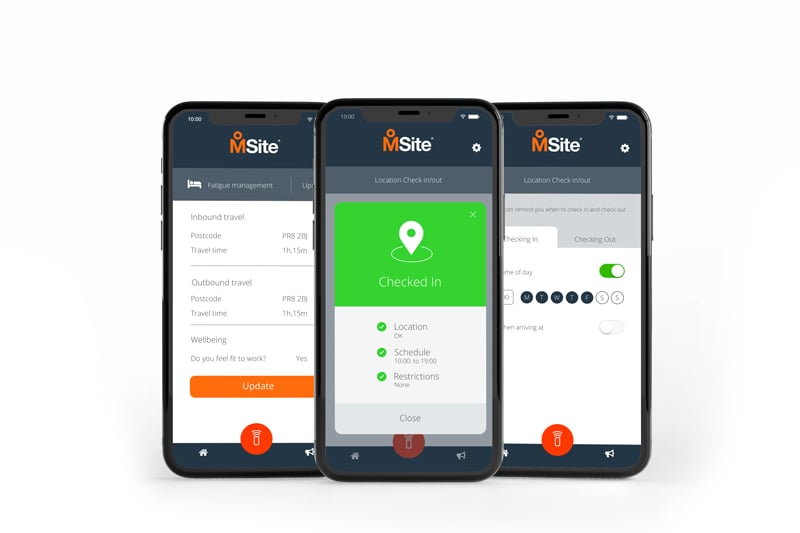 Location Based Check-in
Users of Workforce app can use location check-in to record their time and attendance wherever they are, using biometrics and GPS to validate identity and location.
The site team can digitally set site perimeters with geo-fencing, allowing teams to check in and out of a predefined area - perfect for operatives who work on their own or workers on short and remote projects. It can also be used to maintain time and attendance records for remote workers too, e.g. those working from home.
Download Now

Quick to set up
Workers simply download it from the App or Play store and sign in to their site.

Fatigue Management
Can capture per-shift travel information when the site has the Fatigue Management module.
Easy to use
The App has been designed to be user friendly, so is easy and intuitive to use.
Keep your team in the loop
Send instant or pre-scheduled notifications to all workers on your site, or to specific groups and keep track of who has read (or responded to) notifications.
Use it for anything from safety announcements to changes in shift patterns - we've even seen it used to identify the driver of a vehicle that was creating an obstruction and get it promptly moved!
Which devices is the Workforce App compatible with?
How can remote workers check-in?
Is the solution GDPR compliant?